OFFICE COFFEE SERVICE
ROASTER JOE'S:
THE PROOF IS IN THE CUP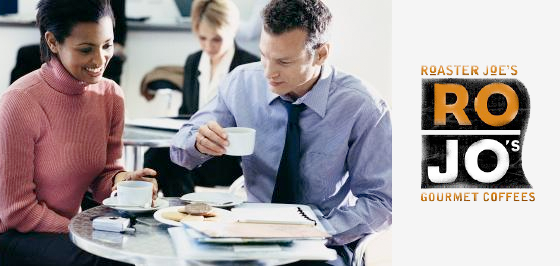 From farmer's crop to coffee pot, our beans live the good life. RoJo's coffees are the result of hard work, long hours, and some seriously sensitive taste buds. Our ingredients are fresh, our blends are bold and lively, and our coffee tastes amazing.
Over the years at Roaster Joe's, we've discovered the secret to productivity in the workplace: Don't make your staff leave the office in search of great coffee and tea.
So make the smart choice! Let Roaster Joe's help you treat your staff to an assortment of flavored teas and coffees ranging from dark to light, regular to decaf roast - even a variety of hot cocoa beverages!
We guarantee you and your colleagues will find more pleasing options in your breakroom than at your local pretentious coffeehouse (and a lot less droning elevator music).
OFFICE COFFEE OPTIONS
Our clients have their pick from a wide variety of setups, from traditional gravity brew systems to customizable single cup systems.
Roaster Joe's also participates in a fundraising program to help raise money for local schools and organizations. There are no minimum purchases and we are able to customize the coffee bags to highlight your chosen organization.
RELAX. WE'LL DO THE WORK.
Not only does Roaster Joe's install and regularly maintain your new brewer, we also keep our clients' pantries fully stocked with their favorite coffees, teas, creamers, sweeteners and other breakroom essentials like paper products, utensils, and cleaning supplies.
MAKE ROASTER JOE'S YOUR OFFICE COFFEE CONCIERGE!
With our huge variety of beverage and flavor options, your employees may opt to stay in the office even longer! (Just don't tell them we said that.)
CONTACT US
We are confident Roaster Joe's can meet and exceed your unique needs in the workplace. Contact Us today to create your personalized office refreshment plan.