WATER AND WATER FILTRATION
CIRUS WATER
YOU CAN TASTE THE DIFFERENCE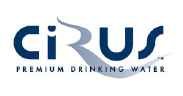 Cirus water goes through a special process that removes lead, carcinogens, nitrates, bacteria, and other impurities. It is tested for cleanliness and offers the greatest security and protection while giving the freshest water possible.
GREAT AT HOME OR WORK
Choose from a variety of dispensers designed to hold a convenient three or five gallon bottle. Our floor models take up one square foot of space which is comparable to one kitchen tile.
DELIVERED TO YOUR DOOR
Take advantage of Cirus' free delivery service. We'll deliver to your home or office every two weeks. If you aren't available for a scheduled delivery, leave your empty bottles outside your front door or in a prearranged, secure location and our route salesperson will leave a delivery receipt with the new bottles.
INNOVATIVE IDEAS
Who says changing the water bottle has to be difficult? Cirus uses unique bottles that feature a handle for easy carrying and replacement.
PRIVATE LABEL WATER PROGRAM
Make Cirus Water work for you. Be a part of our 16.9 ounce Private Label Water Program and advertise your business or cause on each bottle. Bottles come twenty-four to a case with a standard flat-top cap. Customized caps are available upon request.